Lenses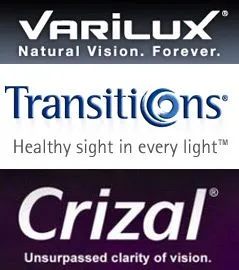 At Bay Optical, we take your vision seriously. Our top priority is to fulfill your visual needs. We have a wide selection of lens options that are thinner, lighter, scratch-resistant and safer. Bay Optical carries one of the most extensive lens options providing our clients with unmatched combination of comfort, safety, accuracy and cosmetics.
Glass Lenses: Glass lenses offer superior optics and very high scratch-resistance. The primary disadvantage of glass is its weight a, generally twice that of plastic lenses. The risk of breakage and eye injury is also very high with these lenses.
Plastic or CR-39 Lenses: Conventional plastic or CR-39 lenses are about half the weight of glass lenses and can be tinted to almost any color and density. On the other hand, CR-39 lenses are more easily scratched than glass. Finally, plastic lenses are more impact resistant than glass.
Polycarbonate Lenses: Polycarbonate lenses are thinner and lighter weight than traditional plastic lenses. This lens type is about 12 times more impact resistant than conventional plastic lenses. This makes them the lenses of choice for children, sports, and safety eyewear.
High Index Lenses (1.60, 1.66 and 1.67): These lenses are thinner and lighter than standard lens material. The higher the index of refraction, the denser the material and the thinner the lenses.
High index plastic uses less material so the lenses are often lighter in weight. High index lenses absorb all harmful UV light and can be tinted to any shade or color. For cosmetic reasons, we recommend anti-reflective coating and polished edge option for all high index lenses.
Standard and Progressive Multi-focal Lenses: If you are over 40 years old, and have trouble reading fine print, you have more options than just the lined bifocals. Progressive lenses, also known as "no line bifocals" are the closest to natural vision. Progressives provide a smooth transition from distance to intermediate to near distances. We carry a wide variety of multi-focal lenses from a wide range of lens designers and manufacturers.
Bay Optical offers Varilux brand of progressive lenses or "no line" bifocals.
Transitions: Transition lenses change from clear to dark in the presence of ultraviolet light, and block 100% of harmful UV rays. They offer all the benefits of clear lenses indoors, while providing the most convenient way to help protect against UV rays and glare in all light conditions.
Crizal: This is an anti-reflective brand lens that is made specifically to stay clean. Enjoy comfort and clarity when driving at night or in environments with glare and reflective surfaces.